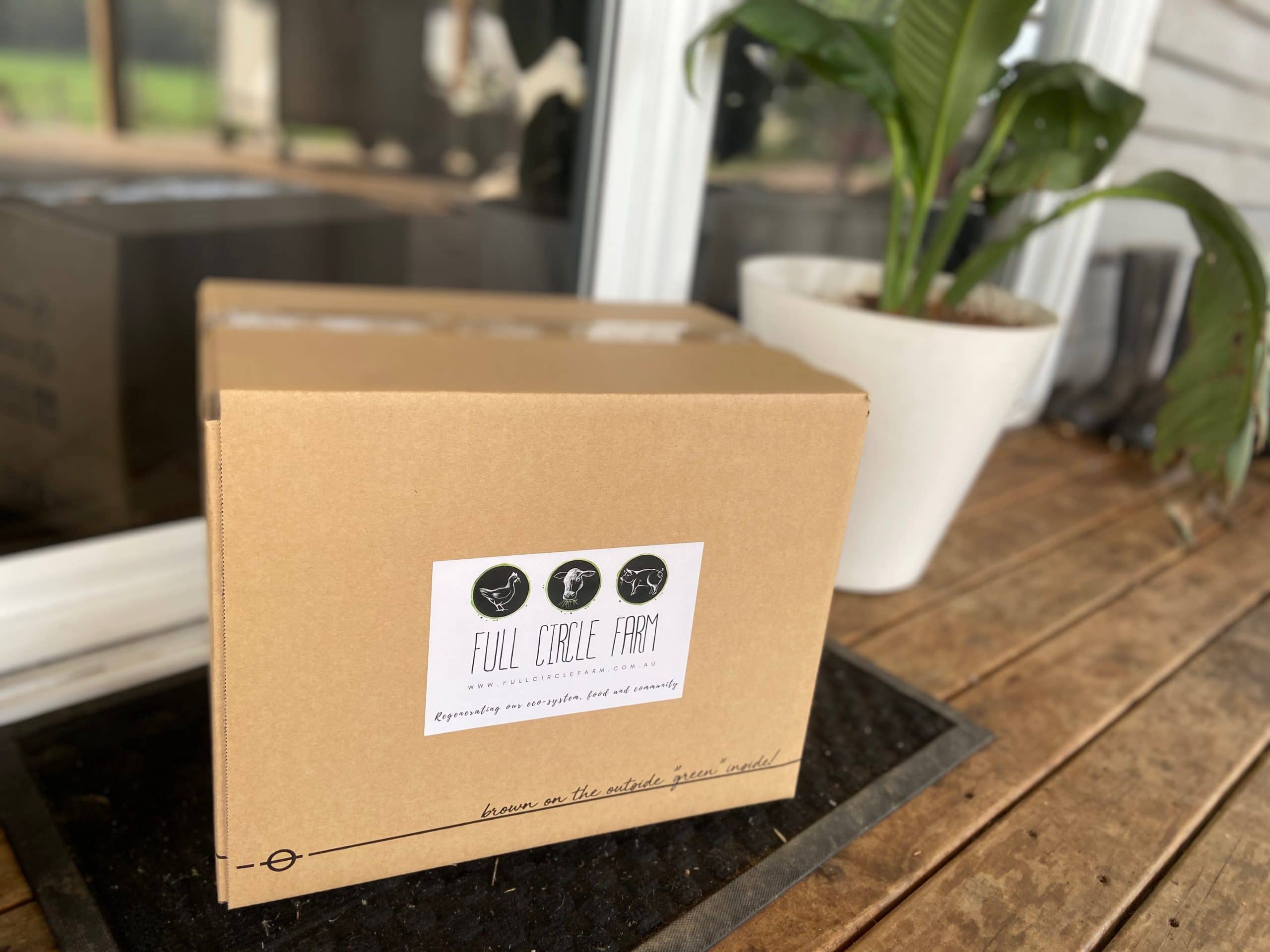 HOME DELIVERY
We now deliver to all of NSW! Chem-free, regeneratively grown food, straight to your door… hassle-free!
THE PRODUCT
If you're on this page, you know why this type of food is different to supermarkets.
1. Ethical treatment of our animals. (in their natural environment, slow-grown- at least double the life of industrially-grown animals)
2. Growing food in a way that actually improves and doesn't destroy our environment.
3. Producing food that is high in nutrition.
Regenerative agriculture is an exciting and simple solution to some real problems facing our planet.
We take our animals to their one bad day at a local abattoir. The meat comes back to our on-farm butchery for cut-up and packaging. 
Our meat is frozen in vac-seal bags to ensure freshness and to avoid having to use any preservatives. Defrosted properly, it is incredibly difficult to tell any difference between chilled and frozen meat. 
Once it gets delivered to you, you can whack it in the freezer, or continue to let it defrost for immediate sampling!
 ORDERING
You can set up an account with us in our shop which makes regular ordering a breeze.
Delivery fee is based on your postcode. We don't hide the delivery fee within our products. We want to be honest and upfront with the cost to get it to you. The cost of delivery is more than what we charge you, but we believe in making regenerative food convenient for all so we will always aim to keep it as low as possible.
Sometimes our stock numbers may be a little out and we'll be short on some items. We will replace with a similar cut if suitable, or simply refund you the missing item. 
We do not have a system for pre-ordering, back-ordering, holding products or notifying people when items become available. 
Cut of for orders is Monday at midnight each week. 
Once we pack your order, you'll get an SMS letting you know that your order is packaged up and ready to go.
DELIVERY
We deliver WEEKLY to the Central Coast, on a Thursday and a Friday. (even though your email confirmation may say Thursday, your order can sometimes come on a Friday if we are too busy. We'll usually send a text to give you a heads up).
We deliver WEEKLY to Sydney and the rest of NSW, usually on a Friday. 
Your order will be delivered by a chilled courier service in our eco-friendly, insulated box. No problems if you're out or asleep. Your food will remain cool for at least 12-24 hours on your doorstep. (please leave clear instructions where we can safely leave your box)
If you are on the Central Coast; we can reuse the box, insulation and ice packs. Simply leave them out for collection when you order next. 
You will receive a text letting you know when your delivery is on it's way and once it's delivered.
If this sounds up your alley; jump on over to our shop and go for gold!